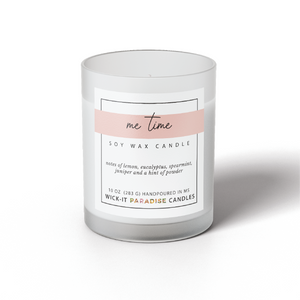 It's time for you to make time for yourself.

Me Time features refreshingly cool eucalyptus layered with sweet spearmint leaf, soothing marine, white musk and sheer citrus accents. It's the perfect candle just for you! Add Me Time to your candle collection today.
All our scented candles are created using a customized blend of Soy Wax for a cleaner burn making them even safer for pets and children. These 10oz candles come with a 69+ hour burn time and fill any large area with it's amazing scent.
Scent Throw:  Bold