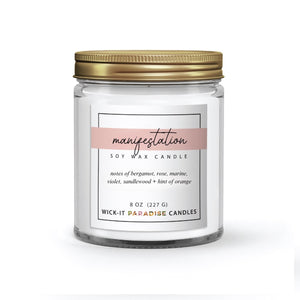 Scent Throw: 🕯🕯🕯🕯🕯️
"Manifestation" is more than just a candle; it's a catalyst for transformation. Whether you're seeking inspiration, clarity, or simply a moment of relaxation, this candle is your perfect companion. Illuminate your space and let the enchanting aroma guide you on a journey of self-discovery and manifestation.
Notes:
Top - bergamot, lemon

Middle - green, marine, herbal, rose, violet

Bottom - musk, patchouli, cedarwood, sandalwood
All our scented candles are created using a customized blend of Soy Wax for a cleaner burn making them even safer for pets and children. These 8oz candles come with a 55+ hour burn time and fill any large area with it's amazing scent.
.